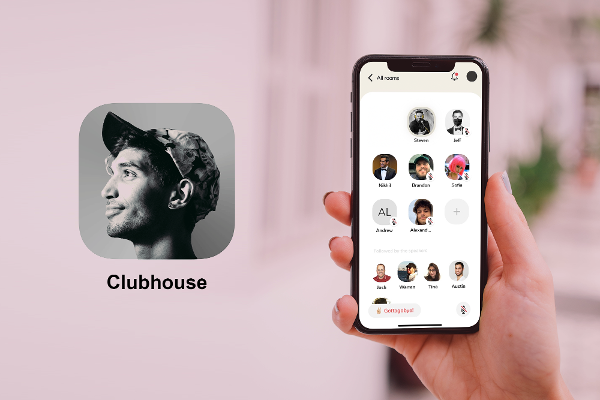 7 minute read
The latest audio app Clubhouse is on the decline after a promising start. The app was only downloaded 922,000 times in April, compared to 2.7 million downloads in March and 9.6 million in February. So, what happens to all the personal data that once counted as an entrance ticket?
A few months ago everyone was still talking about it: Clubhouse. The audio app stirred the mind, especially when even famous figures such as Elon Musk and Oprah Winfrey were reported there. However, the access policy was strict. You could only join by invitation and had to give permission to personal data, such as your contacts.
Clubhouse is free. New users pay with personal data
Clubhouse is a free app. This means that users pay with (personal) data. For example, when you join, you reveal your location and Clubhouse gains access to your personal contacts. What happens to the information? Its privacy protocol says:
" Clubhouse relies on its users to provide accurate Personal Information in order to provide our Services. We try our best to protect that information and make sure that we are responsible in handling, disclosing, and retaining your data. We neither rent nor sell your Personal Information to anyone. "
What happens to your data at this moment?
As said, Clubhouses states in its protocol that they try their best to protect all information and make sure that they are responsible for handling, disclosing and retaining your data.
However, Stanford Internet Observatory examined whether user data was really protected. It has confirmed that Agora, a Shanghai-based provider of real-time engagement software, supplies back-end infrastructure to the Clubhouse app. This could mean that your audio or participation (data) move throughout the internet and is not always protected.
Clubhouse pulls 'a Facebook'

In April this year, tech website Cyber News discovered that 1.3 million scraped user records of Clubhouse, leaked online for free. The information included names, profile photos, linked Instagram and Twitter accounts. A data scientist who called himself John Tukey, scraped the data and published it there.

'John Tukey' turned out to be a certain Vahid Baghi, a data scientist from Iran. He had used the possibilities that Clubhouse offers software developers to link their own apps to Clubhouse. He just wanted to share the data with the scientific community. Nerdy, but naive.

That is why Clubhouse, like Facebook and LinkedIn earlier, denied that there was a hack. 'That's misleading and untrue,' the company stated on Twitter 'It's about public information that everyone has access to.'

However, the consequences can be extreme. For some people (like politicians and activists) it's extremely important to remain anonymous on the internet.

Source: nrc.nl
If Clubhouse would stop or fade, what happens to your data?
Clubhouse is an American company with data servers located in China. With this construction the Patriot Act applies, which allows the American government to gain access to any personal data (in order to protect the country from terrorist attacks). When it comes to the Chinese government, it is also known for collecting and processing personal data from people, companies and servers. With this in mind, there is a big chance that even if a company ceases to exist, its data will remain somewhere.
In a nutshell - and to be blunt - all data has already been stored on various computers in different countries for a longer time.
What can you do to protect your data?
If you are already on Clubhouse, you can choose to remain on it, or stop. Since your data is already out there, it's entirely up to you. If you want to stop, you can of course always choose to have your profile and all given data deleted yourself. But here too, a quantity of data has already been processed in America and/or China. However, this does mean that new data won't be shared anymore.
Why it's better to host in Europe
Fortunately, in Europe, companies are prohibited from disclosing user information to third parties without the user's consent. So, as a Dutch cloud provider, we can't emphasize this enough: are you considering starting a business that manages customer personal data? Make sure to learn from this example and host your data in Europe.
Back to the overview