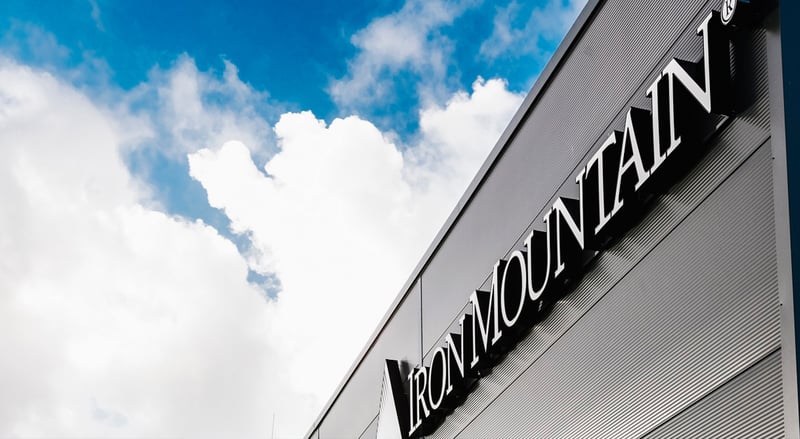 2 minute read
With the outbreak of the global pandemic at the beginning of 2020, many have made the abrupt shift to working from home for the time being. Kitchen tables were converted into office desks and we adapted en masse for digital meetings, shared files and virtual drinks. As a result, the amount of data traffic also increased enormously.
But what are the consequences of working from home for the environment? To learn more about the impact of internet use, we talk to Eric Lisica, Iron Mountain Data Centers Operations Director in Haarlem, Frankfurt and London. The data center division which consists of 15 data centers spread across 5 countries and 3 continents, is part of Iron Mountain Incorporated (NYSE: IRM) an international company specialized in the storage, protection and management of information and assets.
About Iron Mountain Data Centers AMS-1
The Iron Mountain data center that is situated in Haarlem (AMS-1), currently houses about 150,000 servers in 7 data halls, spread over an area of approximately 40 hectares. However, with the current expansion plans, that number will increase rapidly.
Everything is topnotch: the infrastructure is the best you can get and the building is monitored 24/7 by at least 2 security officers and more than 250 cameras. Interested in seeing the datacenter yourself? You can only access the data center which is hidden behind large gates by appointment.

Hi Eric, 150,000 servers in one data center.
Doesn't that take a lot of electricity?
Indeed, a lot of power is consumed in a data center. However, the power consumption by cooling has already been optimized immensely. There are 2 different types of power consumption in a data center. The first one is consumed by our customers' IT systems. The second one is because of the various systems necessary to keep the servers running. Cooling plays an important role in this.
We summarize the relationship between these 2 flows in a KPI that reflects the efficiency of the data center. This is the Power Usage Effectiveness (PUE). The PUE indicates the relationship between the power consumption of the servers and the overhead of the data center. 10 years ago, a PUE of 2 was not uncommon. Today we work with cooling technology that enables us to achieve a PUE lower than 1.2. This means that for every kW that a server uses, we as a data center need less than 0.2 kW to facilitate this. So an enormous efficiency gain has been achieved here.
What was the impact of Covid 19 on data traffic worldwide?
Data is everywhere nowadays and data traffic was already growing rapidly even before the pandemic broke out. Consider, for example, the increasing use of your mobile phone, tablet and laptop when streaming, gaming or browsing on those devices. But data is also more and more generated by devices such as cars, smart homes and many other smart devices.
The continuous growth and exchange of data logically requires more and more storage and processing capacity. Our data centers can handle this well, without suddenly consuming lots of extra energy. In addition, in all our Iron Mountain data centers worldwide, we only use electricity from renewable sources. In Haarlem, this is currently mainly wind power.
How to utilize the residual heat from the data centers
Although the data centers are already operating very efficiently, residual heat will always be emitted from the servers. In some places of The Netherlands, there are initiatives of so-called heat networks that are fed by the residual heat from data centers, among other things. Iron Mountain is currently closely involved in the research by the municipality of Haarlem which looks into the possibilities for the construction of a heat network in the business district Waarderpolder, in Haarlem Waarderpolder. This can be used to provide the heating of surrounding companies in the Waarderpolder.
This way we contribute to the energy transition in general and at the same time making our data center even more energy efficient by giving back our waste heat with a local and collaborative business purpose in mind.
In what other ways are data centers innovating?
In addition to optimizing our infrastructure, we also look further into the supply chain of ICT functionality. Iron Mountain, for example, takes part in the LEAP program of the Amsterdam Economic Board. With LEAP we want to show that cooperation leads to energy savings. The intention is to work with hardware manufacturers, business customers, IT administrators, data centers, government, knowledge institutions, startups and consumers to make a difference and to take steps towards a sustainable digital economy. This is a process that we also like to bring to the attention of our customers.
Ultimately, we must optimize all components within the ICT supply chain together. Only this way we can reduce the impact on the environment. And with initiatives like these , we can continue to grow together!
A joint approach for a more sustainable internet
Tilaa strives towards a green way of working in all its processes. That is why we also make conscious choices in our partnerships with suppliers, including Iron Mountain Data Centers. Would you like to know more about how we contribute to a more sustainable internet?
Back to the overview