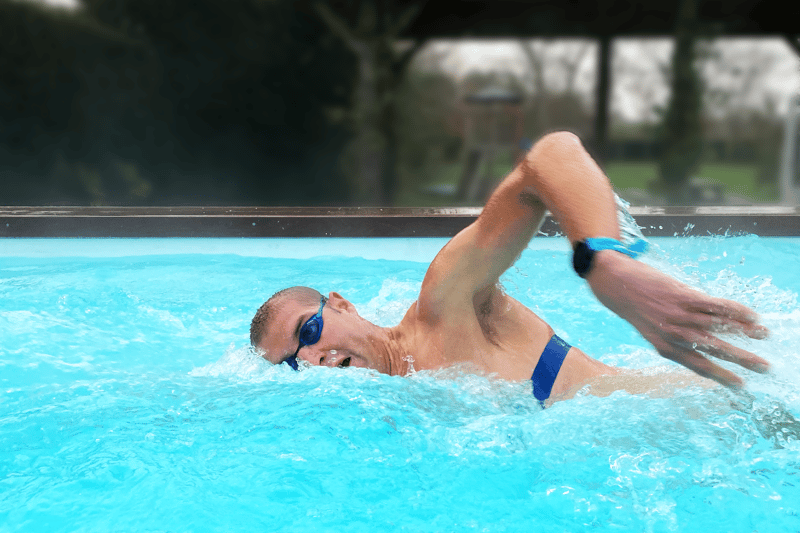 6 minute read
He may not be a superhero, but he is certainly a role model for many. After being cured of leukemia, Maarten van der Weijden won gold at the Beijing Olympics. But that's not even it. Last year he swam more than 200 kilometers in Dutch waters, and this year he finished a triathlon from home. With these accomplishments, he raised awareness and over millions for cancer research. Whatever he does, he does it his own way.
Swimming first, everything else later on
Originally, Maarten is an open-water swimmer. This means that you have to do a lot yourself, be independent, and must be very self-disciplined. His life revolved around swimming. For eg, to improve his training, he relocated to the other side of the country and used innovative techniques such as light therapy. Nothing was going to stop him from pursuing his dream of swimming.
Diagnosis of cancer
Years earlier, though, his situation was very different. At that moment he was in a hospital ward with others. Together they battled the same disease: cancer. Actually, terminology like battling or fighting, according to Maarten, is inaccurate. 'Cancer doesn't play by the rules. Willpower and hard fighting aren't enough to survive. It's like tossing a coin. That can either go right or wrong. You have no control of the result.' Maarten had been fortunate enough to be cured thanks to a new treatment that had been sponsored by donations. Others in the infirmary, on the other hand, did not. Maybe it is out of remorse and gratitude that he is now working so hard to get cancer out of the world.
Cured of cancer and Olympic gold
After he was declared cured, Maarten again rolled in the deep. He started swimming again and in 2003 became Dutch champion in the 800 m freestyle. But even that was not enough, as Olympic gold was the new goal. And, once again, everything had to make way for that. He did weeks of altitude training and wore special light glasses to make him sharper. The preparation was not without results. In Beijing, he won Olympic gold in the 10 kilometers of open water.
Giving everything for more research against cancer
However, the survivor's guilt remained. He has been cancer-free for over 19 years, but the guilt he feels toward other cancer patients gnaws at him. That is why he raises money for cancer research in a way that suits him best. With sports. Again, nothing should hinder his performance: he sleeps in oxygen tents, and sheds weight as needed.
He is a two-time initiator of the Dutch Elfstedentocht. This is a swimming journey of more than 200 kilometers on Dutch waters. The first time he didn't finish since his body pressured him to withdraw after 163 kilometers. But, the second time he did and he raised millions of euros. In the past year, little was possible due to corona. Still, he initiated a triathlon from home. Others joined (all remote) and together, they raised another €90,000.
From being a soloist to becoming a connector
Maarten is the founder of the Maarten van de Weijden Foundation. But he is not alone. He is supported by a group of like-minded individuals, and other competitors are also present. The proceeds are of course dependent on donations. And so the soloist suddenly turns out to be a connector. Because, with swimming trips and triathlons, Maarten unites thousands of people in pain, personal stories, and hope. The Maarten van der Weijden Foundation stands for perseverance, triggers awareness, and connects people.
💡 Maarten van der Weijden Foundation

Since July 2017, Maarten has his own foundation, the Maarten van der Weijden Foundation. With his foundation, Maarten hopes to improve the lives of former, current and future cancer patients. Every euro donated goes directly, for the full 100%, so without deduction of costs, to cancer research. The organization costs of the foundation are paid from sponsor money.
Tilaa supports Maarten
We are proud of and inspired by people who dare to set their own course. Maarten is one of them. Therefore, as people and as a company, we are grateful to be able to support the Maarten van der Weijden foundation in all its goals and ambitions for the future. May their efforts and hard work help in curing cancer once and for all.
Back to the overview