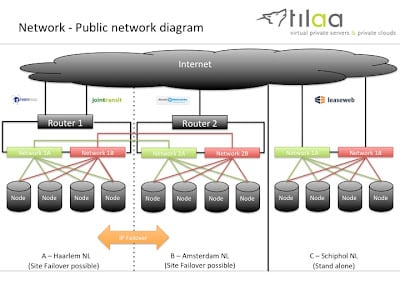 3 minute read
Tilaa is proud to announce opening a 3rd location! As of today you can choose between three different sites: Schiphol, Haarlem and our new site in Amsterdam!
With the opening of the Amsterdam site we're launching some cool additional features we've been working on for a while.
New network infrastructure
Opening the new Amsterdam site was the last step in completing our new network infrastructure. We've build a completely flat network between the Amsterdam and Haarlem location, with redundant, low latency and high bandwidth connectivity between both. We've also added an extra transit link towards the internet, which is also available to both sites.
Here is a picture of our new network infrastructure: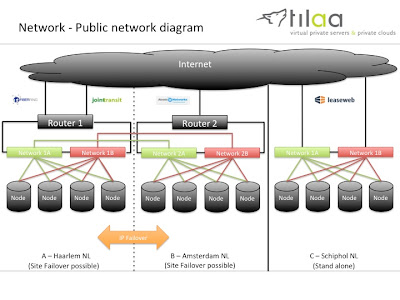 IP failovering between sites
The flat network between these sites gives you the possibility to use an IP address on both sites. For example, you can now build a complete load balanced and/or clustered service infrastructure running over both sites. You can protect your business against site disasters by building redundant services over multiple sites.

Our Schiphol site runs completely independent from the other sites and is therefore an excellent location for running fallback services like nameservers and mail backup or external network monitoring.

Network uptime guarantees
With the new network infrastructure in place we can guarantee higher network uptimes. The previous network uptime guarantee of Haarlem and Schiphol was 99%, but we can now provide a network uptime of 99,95% on both Haarlem and Amsterdam. Our network uptime guarantee for Schiphol is currently unchanged.
Back to the overview